Completed in 1910, the Robie House (1908-1910) is the consummate expression of Wright's Prairie style. Robie House sparked a revolution in residential architecture that still reverberates today and is considered one of the most important buildings in architectural history. The house is a masterpiece of the Prairie style and a forerunner of modernism in architecture.
Learn More
Date & Time
Thursday - Monday 10 am - 2:30 pm
Location
5757 S. Woodlawn Avenue
Chicago, IL 60637
United States
Robie House: Inside and Out
Guided Interior Tour + Self-Guided Outdoor Audio Tour
Combine a guided interior tour of the Robie House with a self-guided outdoor audio tour that tells the fascinating story of the dwelling in its historic and contemporary architectural surroundings. Together they provide a comprehensive experience and excellent value, allowing visitors to fully understand the evolving significance of Robie House. The Self-Guided Outdoor Audio Tour is available in eight languages. Tours can be taken in any order.
Trust members receive $20 discount on Inside and Out tours—call 312.994.4000 for reservations.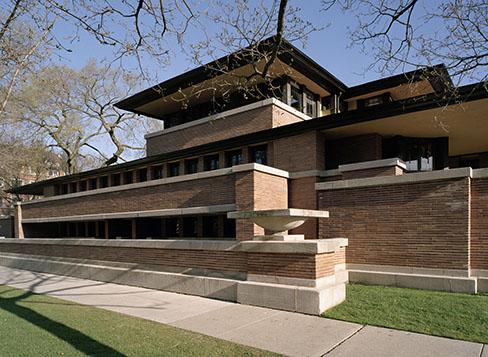 Robie House: A Modern Home
Discover the house Frank Lloyd Wright described as "a cornerstone of modern architecture" on this guided tour that takes in both the exterior and interior of the building. Inspired by the expansive landscape of the Midwest prairie, Wright's Robie House is the most famous of the architect's groundbreaking Prairie houses. Completed in 1910, the house is recognized today as one of the most important buildings of the 20th century. It is inscribed on the UNESCO World Heritage List.
This tour and the Home and Studio Guided Interior Tour are free to Trust members. Learn more at Membership.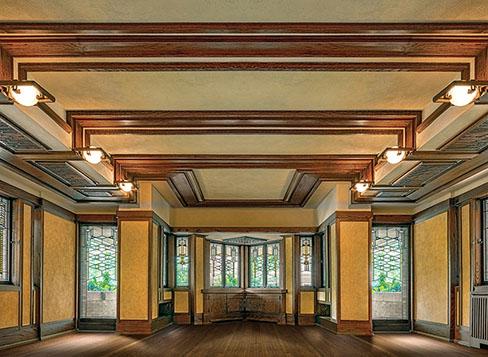 Robie House In-depth
Experience and explore Frank Lloyd Wright's visionary Robie House on this in-depth guided tour. Trained interpreters provide an immersive experience of Wright's Prairie style masterpiece as you tour both the exterior and interior of the house. This 90-minute tour includes public and private areas of the house and detailed information about the history, design, furnishings, restoration and cultural significance of this American landmark and international icon of modern architecture. Limited to 10 guests.
Tours on Fridays, Saturdays and Sundays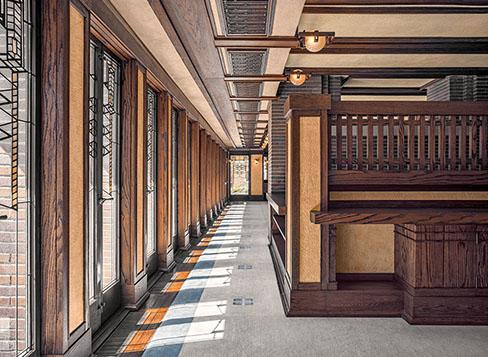 Entry into the Robie House is by guided tour only.
Advance tickets are highly recommended. Purchase tickets online or call our box office at 312.994.4000
Visit our Group Tours page to book a tour for groups of 10 or more.
All guests, regardless of age, must have a ticket.
Children under 8 are not permitted on interior tours.
Strollers are not permitted inside the Robie House.
eTickets and phone sales ticket orders must be exchanged for authorized admission tickets in the Museum Shop before the tour or event.
Day-of tickets may be purchased online or over the phone up to 30 minutes prior to the tour start time.
Late arrivals will join their specified tour in progress.
The Frank Lloyd Wright Trust welcomes all guests. We recognize the diverse needs of our audience and offer accessible programming to enable guests to explore the powerful aesthetic experiences of authentic Wright sites, preserved to Wright's original design vision.
For questions about site accessibility and how we can accommodate your specific needs, call 312.994.4000 or email info@flwright.org. Find more accessibility information on our Plan Your Visit page.
Still photography is permitted on tours. Share your photos using #FLWTrust.
LAND ACKNOWLEDGMENT
The Frederick C. Robie House sits on the ancestral lands of the Potawatomi, Ojibwe, and Odawa Nations. Today, Native peoples from over 100 tribes live in the Chicago area, one of the largest urban American Indian communities in the United States. Native peoples continue to contribute to the life of this region by celebrating their heritage, practicing traditions, and caring for the land and waterways.