The Rookery Building in the heart of Chicago's financial district stands testimony to the resilience and creative spirit of late-nineteenth century Chicago. The rebirth of the city in the wake of the Great Fire of 1871 gave rise to the multi-storied office building that would transform the landscape of America's cities.
Learn More
Date & Time
Monday - Friday 10 am - 1 pm
Location
209 S. LaSalle Street
Chicago, IL 60604
United States
Guided Tour - Rookery Light Court
Set in the heart of Chicago's financial district, Daniel Burnham and John Root's 1888 Rookery Building is a Chicago landmark, containing one of Frank Lloyd Wright's most dramatic interior compositions – a luminous and brilliantly articulated central light court. In 1905, Wright was commissioned to remodel the Rookery light court and lobbies. He realized a stunning balance between Burnham & Root's ornamental ironwork and his own vision to create a spectacular environment.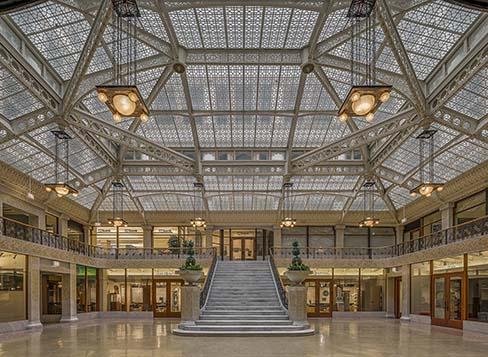 Guided Tour - Rookery Light Court + Burnham Library
This tour includes the Wright-designed Rookery lobby as well as the Burnham Library, where architects met to discuss the preliminary building plans for the 1893 World's Columbian Exposition.
Tours on Mondays and Wednesdays
Advance tickets are highly recommended. Purchase tickets online or call our box office at 312.994.4000.
All guests, regardless of age, must have a ticket.
Children under 8 are not permitted on tours.
Tickets are not refundable or exchangeable.
eTickets and phone sales ticket orders must be presented and validated in the Museum Shop before the tour or event.
​Day-of tickets may be purchased online or over the phone up to 30 minutes prior to the tour start time.
Visit our Group Tours page to book a tour for groups of 10 or more.
Closed: Martin Luther King Day, Presidents Day, Memorial Day, Independence Day, Labor Day, Thanksgiving, Christmas Eve, Christmas Day, New Year's Eve and New Year's Day.
The Frank Lloyd Wright Trust welcomes all guests. We recognize the diverse needs of our audience and offer accessible programming to enable guests to explore the powerful aesthetic experiences of authentic Wright sites, preserved to Wright's original design vision.
For questions about site accessibility and how we can accommodate your specific needs, call 312.994.4000 or email info@flwright.org. Find more accessibility information on our Plan Your Visit page.
Still photography is permitted on tours. Share your photos using #FLWTrust.
LAND ACKNOWLEDGMENT
The Rookery Building sits on the ancestral lands of the Potawatomi, Ojibwe, Odawa, Miami, Ho-Chunk, Menominee, Sac, and Fox Nations. Today, Native peoples from over 100 tribes live in the Chicago area, one of the largest urban American Indian communities in the United States. Native peoples continue to contribute to the life of this region by celebrating their heritage, practicing traditions, and caring for the land and waterways.