Image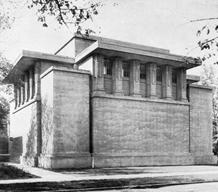 Commissioned by the congregation of Oak Park Unity Church in 1905, Wright's Unity Temple is the greatest public building of the architect's Chicago years. Wright's family on his mother's side were Welsh Unitarians, and his uncle Jenkin Lloyd Jones was a distinguished Unitarian preacher with a parish on Chicago's south side where Wright and his wife Catherine were married. Wright identified with the rational humanism of Unitarianism, particularly as influenced by Ralph Waldo Emerson's transcendentalism, uniting all beings as one with the divine presence.
Wright's father had been a Universalist preacher. With their emphasis on a loving God, Universalists were early advocates of abolitionism and were the first church to ordain women. In 1886 Universalist Augusta Chapin became minister of the Oak Park Unity Church, attracting new members to the congregation including Frank Lloyd Wright's mother Anna. Unitarian Universalist minister Rodney Johonnot succeeded Chapin when she joined the Parliament of World Religions in 1893. A lawyer and graduate of Harvard Divinity School, Johonnot was known for his liberal views, even more extreme than those of Jenkin Lloyd Jones with whom he sometimes took issue.
When Unity Church burned to the ground in June 1905, Wright was awarded the commission, and in 1906 Johonnot published a booklet titled, A New Edifice for Unity Church. He wanted a modern building that would embody the principles of "unity, truth, beauty, simplicity, freedom, and reason."
Wright was a perfect match to these requirements. The design he submitted to the congregation broke with almost every existing convention for traditional Western ecclesiastic architecture. On the novel choice of construction material Wright states, "There was only one material to choose—as church funds were $45,000. Concrete was cheap." Wright's bold concept for the building enabled a series of concrete forms to be repeated multiple times.
Image
In harmony with Wright's philosophy of organic architecture, the concrete was left uncovered by plaster, brick, or stone. Wright's sensitive handling of materials was a defining feature of his architecture from early in his career. "Bring out the nature of the materials…" Wright insisted in his seminal essay In the Cause of Architecture, "…let their nature intimately into your scheme. Reveal the nature of wood, plaster, brick, or stone in your designs, they are all by nature friendly and beautiful. No treatment can be really a matter of fine art when those natural characteristics are, or their nature is, outraged or neglected."
Unity Temple was a significant commission in Wright's Oak Park Studio. Charles E. White, who worked as a draftsman for Wright from 1903 to 1906, details the collaborative effort of the Studio to secure the commission, "…the chief thing at Wright's is of course Unity Church, the sketches of which are at last accepted. We have all pleaded and argued with the committee, until we are well-nigh worn out. All hands are working on the drawings."
Approached from Lake Street, Unity Temple is a massive and monolithic cube of concrete, sheltered beneath an expansive flat roof. The introspective nature of the building is in part a response to its corner site situated along a busy thoroughfare. No entrance is apparent, and the building appears impenetrable, save for a band of high clerestory windows recessed behind decorative piers and shadowed by overhanging eaves.
Image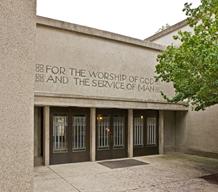 Entry to the building is via a low hall that connects Unity Temple and Unity House. Above the bank of doors leading into the hall, an inscription in bronze declares, "For the worship of God and the service of man." The low, dimly lit hall that unites the buildings is a transitional space. To the south it opens directly onto Unity House. Designed for "the service of man," this secular space includes a central meeting hall, flanking balconies for use as open classrooms, and other special purpose rooms for daily operation. Like Wright's residential architecture, this congregational parish house is centered on a fireplace hearth.
Situated across the hall from Unity House is the temple. In contrast to the open entrance into Unity House, access to the sanctuary is complex. Wright masterfully manipulates the sequence of entrance; guiding the visitor through low dark passages he termed "cloisters," before they ascend into the open, brightly lit sanctuary.
The sanctuary is the heart and anchor of the building. At once grand yet intimate, the sanctuary is a masterful composition in light and space. Its elegant articulation and warm colors stand in bold contrast to the grey concrete exterior. Devoid of overt religious iconography, its precise geometric proportions declare a harmonious whole.
Image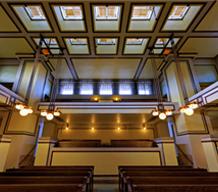 The uppermost portion of the sanctuary appears light and transparent. A continuous band of clerestory windows of Wright's signature leaded glass encircles the flat, coffered ceiling. Set in a concrete grid are twenty-five square skylights of amber tinted leaded glass The effect, Wright states, was intended "…to get a sense of a happy cloudless day into the room… daylight sifting through between the intersecting concrete beams, filtering through amber glass ceiling lights. Thus managed, the light would, rain or shine, have the warmth of sunlight."
While Wright's innovative use of concrete was chosen for its economy, the completed building ultimately cost nearly twice the contracted price due to complications encountered during construction. In September of 1909, the new building was dedicated. Because its unique design bore little resemblance to the other churches along Lake Street, it was decided to rename it Unity Temple.
The congregation's board of trustees issued a statement thanking Wright: "We extend to the architect, Mr. Frank Lloyd Wright, our most hearty congratulations upon the wonderful achievement embodied in the new edifice and further extend to him our most sincere thanks for the great service which, through the building, he has rendered to the parish and to the community. We believe the building will long endure as a monument to his artistic genius and that, so long as it endures, it will stand forth as a masterpiece of art and architecture."
Their words were prophetic.