Unity Temple (1905-08) is Frank Lloyd Wright's only surviving public building from his Prairie period. Limited by a modest budget and an urban site, Wright created an innovative design and used unconventional materials to produce one of the most sophisticated accomplishments of his early career. The oldest Wright building still in use for the same purpose for which it was built, Unity Temple stands today as a masterpiece of modern architecture and design.
Learn More
Date & Time
Monday - Friday 9 am - 3 pm, Saturday 9:30 am - 12 pm.
Location
875 Lake Street
Oak Park, IL 60301
United States
Guided Interior Tour
Unity Temple represents a defining moment in Frank Lloyd Wright's early career. Designed in Wright's Oak Park Studio, it is considered the greatest public building of the architect's Prairie era. Discover how the harmony of the building's strikingly geometric architecture and decorative elements exemplifies Wright's theory of organic design. Unity Temple is inscribed on the UNESCO World Heritage List.
Tours: Monday - Friday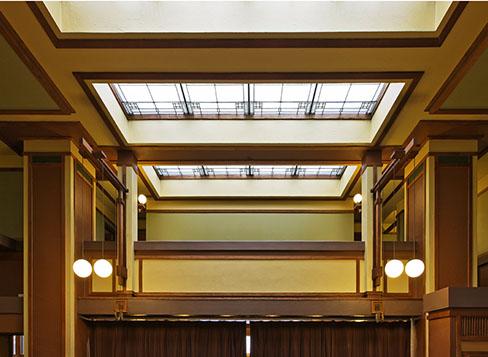 Audio Self-Guided Tour
You may tour Unity Temple at your own pace on this self-guided audio tour.
Tours: Monday - Saturday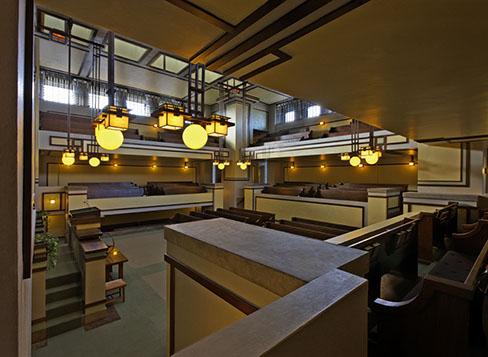 In-depth Tour
Unity Temple's recent comprehensive restoration reveals why it deserves to be considered the greatest public building of Wright's Prairie period. With your trained interpreter, discover the different techniques and technologies involved with restoring this site to its original glory. Explore spaces not typically open to the public, including areas in adjoining Unity House.
Tours: Saturday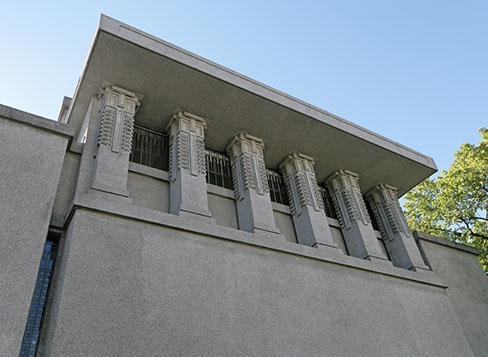 Advance tickets are highly recommended. Purchase tickets online or call our box office at 312.994.4000.
All guests, regardless of age, must have a ticket.
Children under 12 are not permitted on tours.
Late arrivals will join their specified tour in progress.
Tickets are not refundable or exchangeable.
eTickets and phone sales ticket orders must be exchanged for authorized admission tickets at the front desk in the Unity Temple entry hall before the tour or event.
Visit our Group Tours page to book a tour for groups of 10 or more.
Day-of tickets may be purchased online, over the phone up to 30 minutes prior to the tour start time.
Ticket purchases entitle the Frank Lloyd Wright Trust to unrestricted use of photographs taken by our staff or agents, without subject consent.
Closed: Sundays, Thanksgiving, Christmas Eve, Christmas Day and New Year's Day.
The Frank Lloyd Wright Trust welcomes all guests. We recognize the diverse needs of our audience and offer accessible programming to enable guests to explore the powerful aesthetic experiences of authentic Wright sites, preserved to Wright's original design vision.
For questions about site accessibility and how we can accommodate your specific needs, call 312.994.4000 or email info@flwright.org. Find more accessibility information on our Plan Your Visit page.
Still photography is permitted on tours. Share your photos using #FLWTrust. 
LAND ACKNOWLEDGMENT
Unity Temple sits on the ancestral lands of the Potawatomi, Miami, Kickapoo, and Peoria Nations. Today, Native peoples from over 100 tribes live in the Chicago area, one of the largest urban American Indian communities in the United States. Native peoples continue to contribute to the life of this region by celebrating their heritage, practicing traditions, and caring for the land and waterways.