Unity Temple, 875 Lake Street, Oak Park, IL
Unity Temple tours are not available at this time.
STANDARD TOURS
Unity Temple Guided Interior Tour
Unity Temple represents a defining moment in Frank Lloyd Wright's early career. Designed in Wright's Oak Park Studio, it is considered the greatest public building of the architect's Prairie era. Discover how the harmony of the building's strikingly geometric architecture and decorative elements exemplifies Wright's theory of organic design. Unity Temple is inscribed on the UNESCO World Heritage List.
Learn more about Unity Temple >
Tours: Monday - Friday
Hours: 10 am - 4 pm (Mon - Thu), 10 am - 3 pm (Fri)
Length: 30-40 minutes
Admission: $20
Unity Temple Audio Self-Guided Tour
You may tour Unity Temple at your own pace on this self-guided audio tour.
Tours: Monday - Saturday
Hours: 8 am - 4:15 pm (Mon - Thu), 9 am - 3:15 pm (Fri), 9 - 11:15 am (Sat)
Length: 45-60 minutes
Admission: $15
---
ENHANCED TOURS
Unity Temple In-depth Tour
Unity Temple's recent comprehensive restoration reveals why it deserves to be considered the greatest public building of Wright's Prairie period. With your trained interpreter, discover the different techniques and technologies involved with restoring this site to its original glory. Explore spaces not typically open to the public, including areas in adjoining Unity House.
Tours: Saturday
Hours: 9 am
Length: 90 minutes
Admission: $40 General, $32 Trust members.
Unity Temple Audio Self-Guided Tour + Home and Studio Guided Interior Tour
Tour both of Oak Park's most renowned Wright sites: The Home Wright designed for his young family, with its adjacent architectural Studio where the Prairie style evolved (guided tour); and just three blocks away, Unity Temple, designed in the Oak Park Studio and considered the greatest public building of Wright's Prairie era. The self-guided audio tour of Unity Temple is available in 8 languages and may be taken before or after the confirmed time for your guided Home and Studio tour.
Tours Mondays - Saturdays
Length: 2 hours
Admission: $35
---
SEASONAL TOURS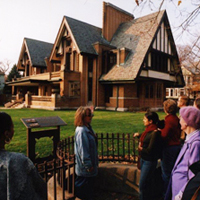 Wright Around Oak Park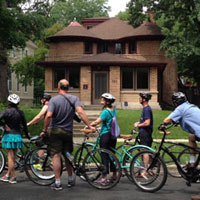 Pedal Oak Park
Tour and Ticket Information
Advance tickets are highly recommended. Purchase tickets online or call our box office at 312.994.4000.
All guests, regardless of age, must have a ticket.
Children under 12 are not permitted on tours.
Late arrivals will join their specified tour in progress.
Tickets are not refundable or exchangeable.
eTickets and phone sales ticket orders must be exchanged for authorized admission tickets at the front desk in the Unity Temple entry hall before the tour or event.
Visit our Group Tours page to book a tour for groups of 10 or more.
Day-of tickets may be purchased online, over the phone up to 30 minutes prior to the tour start time.
View information for guests needing special assistance.
Ticket purchases entitle the Frank Lloyd Wright Trust to unrestricted use of photographs taken by our staff or agents, without subject consent.
Closed: Sundays, Thanksgiving, Christmas Eve, Christmas Day and New Year's Day.
Accessibility
The Frank Lloyd Wright Trust welcomes all guests. We recognize the diverse needs of our audience and offer accessible programming to enable guests to explore the powerful aesthetic experiences of authentic Wright sites, preserved to Wright's original design vision.
For questions about site accessibility and how we can accommodate your specific needs, call 312.994.4000 or email info@flwright.org or visit our Accessibility page for more information.
Photography